BCU Awards 22 Scholarships to College Bound High School Seniors
September 1, 2018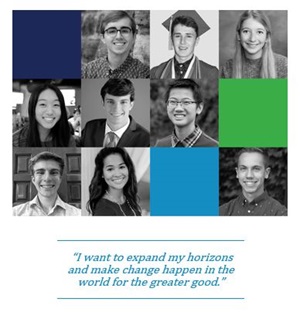 As part of its ongoing commitment to serving members, BCU has granted 22 scholarships to college-bound high school seniors who demonstrate the core values of the Credit Union.
This year, BCU introduced the Samuel G. O'Kelly Memorial Scholarship for Outstanding Commitment to Community Service. The award commemorates BCU founding father Sam O'Kelly Jr., whose career with Baxter spanned over four decades.
The $2,500 scholarship was awarded to Jacob Fisher of Anchorage, Alaska. The recent graduate of A.J. Dimond High School will attend Brigham Young University for Electrical Engineering.
Jacob emulates the core values of BCU through his unwavering dedication to community involvement and desire to give back. From Women's Issues Club, to the Eagle Scouts, and the Aaronic Priesthood, he has served his community by demonstrating integrity, goodwill, and teamwork.
"There is nothing I want more than to help young people find joy in math and science", Jacob said.
Jacob's ultimate goal is to teach high school math and engineering classes.
Since 2014, BCU has awarded nearly $130,000 in scholarships to college-bound high school seniors and opened the door for many educational opportunities. The scholarship program was established to assist members of the Credit Union who plan to continue their education in college. The awards are offered each year for full-time study at an accredited institution of the student's choice. Selection of the criteria includes academics, participation in community activities, and demonstration of core values, with eligible applicants required to write a short essay.
This year, BCU also introduced the Chip Filson Scholarship Award. This scholarship commemorates the outstanding influence of Chip Filson on the credit union industry, and thus was granted to the Overall Most Outstanding Candidate.
The $5,000 scholarship was awarded to Benjamin Earle-Moseley of Saint Paul, Minnesota, a recent graduate of Highland Park Senior High School. Benjamin will attend Georgia Institute of Technology to study Aerospace Engineering and Chinese.
Benjamin's passion for math, science and knowledge drive him toward a career in aerospace and flight solutions. His vigor for changing the world demonstrates his eagerness, like BCU, to be Here Today For Your Tomorrow.
"I want to expand my horizons and make change happen in the world for the greater good," Benjamin said. "I hope to create a better world where society has access to safer flight solutions."