Jose Cajigas Honored as a 2018 Credit Union Rock Star
October 1, 2018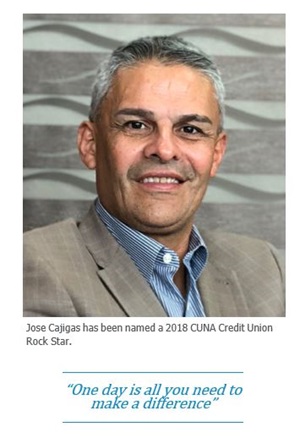 Jose Cajigas, General Manager and Vice President of Puerto Rico Operations at BCU has been recognized by CUNA's Credit Union Magazine as one of its 2018 Credit Union Rock Stars.
"Jose's outstanding achievements stood out to us as an inspiration that other credit union professionals could learn from," said Ann Hayes Peterson, vice president of publishing at CUNA. "We received so many wonderful nominations this year, but Jose's story was one we knew we had to tell."
Cajigas is being recognized this year for his selfless determination and exceptional response efforts following Hurricane Maria. When the devastating storm hit Puerto Rico in September 2017, Cajigas immediately set out on a rescue mission to locate each and every BCU employee on the island and ensure their safety.
With complete loss of power and communications, Cajigas traveled through the aftermath of the storm for several days until all of his team and their families were confirmed safe. His tireless efforts continued on to ensure they each had access to food, water, gas, and generator power for their homes. As communications were restored, Cajigas worked with the leadership team on the mainland to organize assistance for Puerto Rico staff.
Cajigas' courage in taking care of BCU's employees was equally important in providing relief assistance to members on the island. In taking care of his employees as his first priority, BCU was able to resume operations on the island much sooner than anticipated. "Less worries on the staff means more time to serve members," said Cajigas. Remarkably, the Credit Union was able to re-open most of its Service Centers within a week of the storm, providing members critical access to cash and emergency loans.
Cajigas' own personal losses during the storm were also great, though Cajigas would not agree. Ask Cajigas how he's doing and you'll always get the same reply: "I'm alive!" You'll get a similar response of gratitude if you ask Cajigas about his relief efforts. "It's not about me, it's about us. I'm proud of the entire BCU team. We're a family, and everyone set aside their personal needs to jump in and figure out how we could help others."
"Jose's actions in the face of this devastating storm speak exactly to his character; his spirit of hope and generosity," said BCU President and CEO Mike Valentine. "Jose went above and beyond to provide exceptional care and service to those around him. His demonstration of BCU's core values make him a true rock star."
It's a sentiment that's echoed by Jose's team on the island. "Jose Cajigas is an exemplary leader," said Edwin Plaza, insurance executive of BCU's Puerto Rico Operations. "We are incredibly proud to have him as part of our BCU family."
This year's CU Rock Star Honorees were all nominated by their colleagues and selected by the editorial staff of Credit Union Magazine. In total, 46 professionals representing 26 states are being honored as this year's Credit Union Rock Stars. Cajigas, along with the other winners, are profiled in the October issue of Credit Union Magazine, sponsored by Fiserv.
For the full list of 2018 Credit Union Rock Stars, visit news.cuna.org/rockstar.