BCU Awards $35,000 in Scholarships to College Bound High School Seniors
September 3, 2019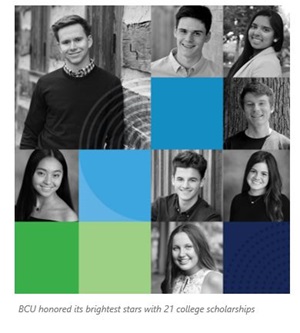 In alignment with its promise to empower financial freedom, BCU has awarded 21 scholarships to its brightest college-bound high school seniors.
This year's recipients represent eight different states spanning from the Atlantic to the Pacific Coast. Among the recipients are students attending Boston University, University of Arizona, Northwestern University, University of Notre Dame, and more.
For the second year, BCU honored a student with the Samuel G. O'Kelly Memorial Scholarship for Outstanding Commitment to Community Service. The $2,500 award commemorates BCU founding father Sam O'Kelly Jr., whose career with Baxter spanned over four decades.
"Sam had a clear vision for what the Credit Union should be and created a legacy that we proudly continue today in always putting our Members first," Mike Valentine, BCU President & CEO said. "Those who knew Sam know he was a man who gave of himself selflessly and always took care of others."
Simon Garey of Grafton, Wisconsin was selected as the 2019 recipient of the prestigious award. Garey will attend University of Wisconsin – Eau Claire with a focus in biology and pre-med.
"Simon is a shining example of the Credit Union's Shared Values in action," Valentine said. "His commitment to acting with integrity, excelling through collaboration, and passion for giving back is clear."
An active volunteer in his community and at school, Garey has built relationships with multiple nonprofit organizations. A dynamic volunteer with SEA Literacy, Garey helps transform neighborhoods and empower families in greater Milwaukee with the language and development tools they need to thrive in the community.
Mirroring the Credit Union's recent CUNA recognition for diversity and inclusion, Garey is also a strong advocate for fostering a culture of belonging. Over the last several years, Garey has volunteered as a swim instructor, helping children with disabilities to grow their confidence and independence.
"Sometimes the kids will feel uncomfortable being away from their parents, so I did my best to make an effort of welcoming them and making everyone feel safe, prepared and included," Garey said.
Raised with five siblings, Garey has developed a naturally strong desire to nurture and care for those around him, hoping to one day become a doctor serving underprivileged communities or terminally ill children. "I've always found medicine interesting," Garey said. "But mostly I just really love helping people and giving back to the community."
Since 2014, BCU has awarded nearly $200,000 in scholarships to college-bound high school seniors and opened the door for many educational opportunities. The scholarship program was established to assist members of the Credit Union who plan to continue their education in college. The awards are offered each year for full-time study at an accredited institution of the student's choice. Selection of the criteria includes academics, participation in community activities, and demonstration of the Credit Union's Shared Values, with eligible applicants required to write a short essay.
To learn more about BCU's 2019 Scholarship Award recipients, visit http://online.fliphtml5.com/fvmf/qcvj/.