How These BCU Communities Are Able To Thrive After Natural Disasters
December 14, 2022
CHICAGO - Among the many challenges facing the world this year, two hurricanes added additional stress throughout southeast US and Puerto Rico, among other areas. Hurricanes Fiona and Ian hit close to home for the Credit Union, affecting BCU employees and members at the Añasco, PR and Lakeland, FL facilities, respectively. It is especially in times of uncertainty that the Credit Union leans into its Promise to be Here Today For Your Tomorrow, providing an unexpected and uplifting lesson to many.
Laura Patton, Manager of Retail Branch Operations at BCU's Lakeland Branch, shared her gratitude for Hurricane Ian having changed direction shortly before it was meant to reach Lakeland. "We did have some high winds and rain, and there were some trees and debris blown around, but we missed a majority of the storm," said Patton. Hurricane Fiona, however, was not as forgiving to Puerto Rico.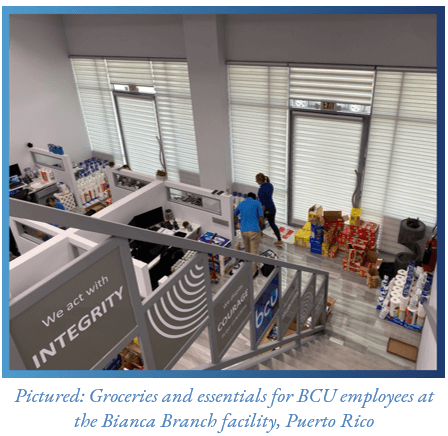 BCU's newly-expanded Bianca facility in Añasco, Puerto Rico experienced its first hurricane since Hurricane Maria in 2018. Prepared with lessons learned post-Maria, the building and its employees were able to recover quickly with the help of solar power, generators, a crisis plan, and other redundancies. BCU Director of Puerto Rico Operations, Edwin Plaza, recounted the first few days after Hurricane Fiona, "The morning after [the storm], we reached out to all employees throughout the island to make sure they were safe. I then went to the Bianca building, grateful to see it had not suffered any damage." Once the Puerto Rico team was able to confirm their employees were safe and the building was functional, they began taking care of each other and their members. The Credit Union provided financial well-being and mental health resources, meals and groceries, phone charging stations for those without power and even laundry services for the affected employees and their families. "BCU has aways been there and gone above and beyond to help their employees," said BCU Director of Puerto Rico Contact Center & Island Operations, Edgardo SotoRuiz. "Even something as simple as a nice, warm meal for dinner goes a long way."
Even having gone several weeks without power and running water in their own homes, employees were able to look back on the experience with appreciation. "Driving home from work just two weeks after the storm, I couldn't stop thinking about how grateful I am for BCU and the community we've built on the island," said Jennifer Ramos, BCU Virtual Member Service Representative. Plaza also shared why he remained positive, "When we are without power and without water and, for some reason, it brings everybody together. We bonded over this terrible situation and made the most of being able to support each other and our members," said Plaza.
About BCU: BCU is a purpose-driven organization that empowers people to discover financial freedom. With $5B in assets, while being both not-for-profit and member-owned, the Credit Union is driven by the commitment to provide extraordinary service. BCU members enjoy access to financial services and well-being programming that inspire confidence through the brand promise "Here Today For Your Tomorrow." BCU is the financial well-being benefit partner for some of America's best companies, currently serving Fortune 100 workplaces throughout the United States and Puerto Rico. Lifetime membership is offered to employees and families of their company partners, and those living or working in Chicago-area communities. To learn more about BCU, visit BCU.org.