BCU Wins CUNA Councils Diamond Award for Exceptional Marketing

April 6, 2023
Chicago - BCU has been honored with a 2023 Diamond Award by the Credit Union National Association (CUNA) Marketing and Business Development Council. The CUNA Councils Diamond Awards is a prestigious annual marketing competition that recognizes credit unions for creative excellence and outstanding results. The Category's Best award is the highest honor a credit union can receive in this competition, representing a high score within an asset level.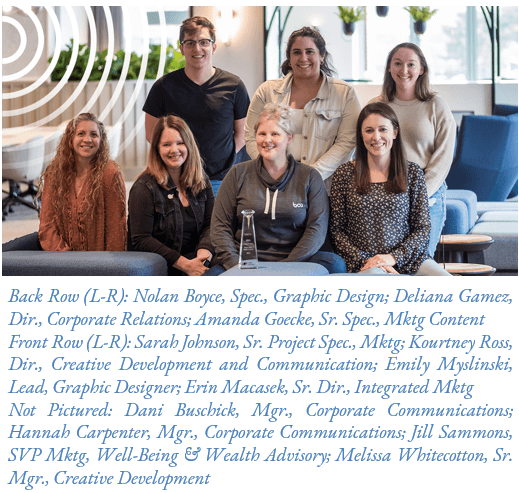 BCU's winning entry – a direct mail trifold, titled "Start Small, Think Big," – received the Category's Best award in the Direct Mail - Single or Series category. The mailer was sent to nearly 25,000 Associates (a.k.a. employees) of Beckton, Dickenson and Company (BD), one of BCU's Company Partners, to create Credit Union awareness with a focus on establishing personal savings – something 70% of Americans struggle to do. Strong visuals and compelling copy showcased the impact of setting aside money from each paycheck with the help of BCU's products and services; including BCU's certified Goal Consultants, PowerPlus™ Checking (an interest-bearing checking account), Rainy Day Savings™ higher-yield savings account), and BCU's Enhanced Direct Deposit™ advantage. In addition, BD Associates were offered a limited-time $50 deposit for joining BCU.
The three-month campaign exceeded expectations, resulting in a significant increase in member growth and product participation. "We're honored to receive this recognition from the CUNA Marketing and Business Development Council for our 'Start Small, Think Big' campaign," said Kourtney Ross, BCU Director of Creative Development and Communication. "At BCU, we're committed to helping our members achieve their financial goals and live their best lives. This award is a testament to our dedication to providing our members with the resources and tools they need to succeed financially."
The winners of the CUNA Councils Diamond Awards were announced at the annual CUNA Marketing & Business Development Council Conference held in Orlando, FL on March 28. The conference brought together credit union professionals from across the country to discuss the latest trends and strategies in marketing and business development.
View BCU's winning entry here.
About BCU: BCU is a not-for-profit, member-owned Credit Union that is fiercely dedicated to Empowering People to Discover Financial Freedom. At just under $6B in assets, BCU is driven by its commitment to providing a fast, easy, secure banking experience and extraordinary service for close to 350,000 members. The BCU field of membership includes employees and families of large employers that are focused on the financial well-being of their workforce; those who live or work in northern Illinois, southern Wisconsin, and the island of Puerto Rico; and subscribers of BCU's wholly-owned Credit Union Service Organization (CUSO), Life. Money. You.® within communities and Fortune 100 workplaces throughout the United States and Puerto Rico. All BCU members enjoy lifetime access to financial services and well-being programming that inspire confidence through the brand promise "Here Today For Your Tomorrow."
To learn more about how we can help you realize your financial dreams, visit BCU.org.
Members of the media can obtain more information by visiting BCU.org/About-Us/Media-Relations.