Welcome
Hillrom colleagues!
You Belong Where Banking is Better.
As a Hillrom employee, you and your family have exclusive access to Credit Union membership* from BCU. You'll find lower rates, greater rewards, and exceptional service – delivered by people who are committed to putting you first.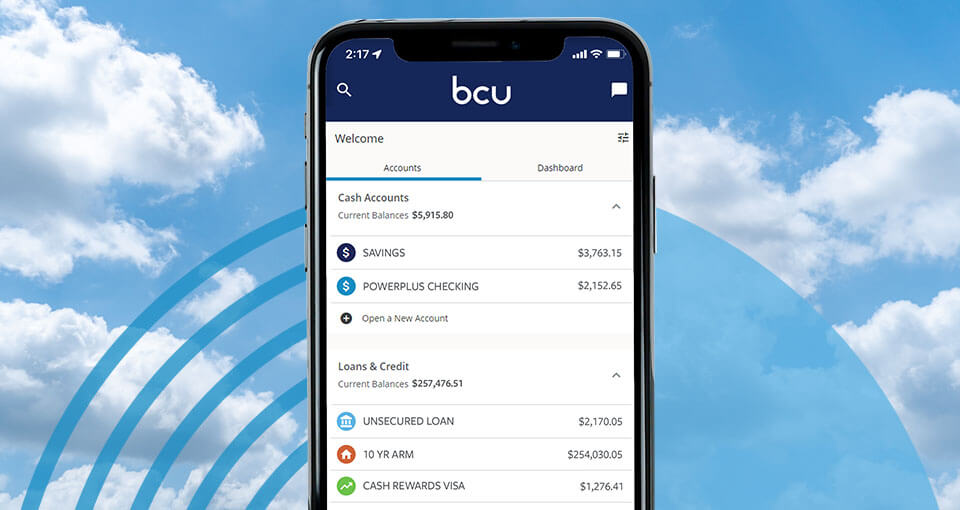 Download the Digital Banking app today!
Access your money on your schedule. Make a transfer or deposit a check in a snap with Deposit Anywhere.


App Store®
Google Play™
The Credit Union is here to help you make your money go further.
Choose your skill-building tool:
​​​​​​​​​​​​​​

1Offer available to TeamHealth employees who are legal U.S. residents 18 years of age or older unless prohibited by law. Offer valid 6/1/2023 - 8/31/2023
(Offer Period). Non-members, receive a $25 deposit for opening a new BCU membership with a PowerPlus™ Checking account and depositing
at least $25 in the first 30 days of account opening. Must use promo code TH2023 when opening new membership. A person seeking Credit Union
membership must also meet at least one of the criteria found at www.BCU.org/Membership-Eligibility. New Credit Union membership and PowerPlus
Checking must be opened by 8/31/2023 to be eligible for offer. New members will receive the $25 as a deposit into their Share-01 Savings account on
or before 10/13/2023. Existing members are not eligible for the offer. No substitutions for deposit allowed. Offer limited to one (1) deposit per person.
Void where prohibited. BCU's decisions are final and binding on all matters relating to this offer. BCU, at its sole discretion, may terminate, in whole
or part, and or modify, amend, or suspend this promotion in any way, at any time, for any reason without prior notice. Participants agree to release,
discharge or hold harmless the sponsor, its respective parents, affiliates, subsidiaries, and others engage in the development and creation of this offer
from any liability, claims, losses, and damages arising out of or relating to their participation in this offer or the acceptance, use, misuse, or possession
of any prize received in this offer. BCU employees and immediate family members are not eligible to participate in this offer. Sponsored by BCU, 340 N
Milwaukee Ave, Vernon Hills, IL 60061.

2ATo earn monthly dividends and reimbursements of other banks' ATM surcharge fees up to $5.00 per transaction, your account must meet all three of these requirements monthly to qualify for Level 1 or Level 2. Please note, ATM surcharge fees are covered up to $5.00 per transaction, any remaining ATM surcharge fee over $5.00 will not be reimbursed.
To achieve Level 1, you must have monthly direct deposits totaling at least $1000 into your PowerPlus Checking account on an ongoing monthly basis, enrollment in eStatements and completion of at least fifteen (15) qualified transactions.
To achieve Level 2, you must have direct deposits totaling at least $3000 into your PowerPlus Checking account on an ongoing monthly basis, enrollment in eStatements and completion of at least thirty (30) qualified transactions.
Qualified transactions include any combination of the following: BCU Debit Card PIN, Debit Card signature, credit card purchases, Online Bill Pay or ACH payments, which will apply toward the monthly requirements in the month they post to your account. Credit card transactions that post on the last day of the month will be applied toward the following month's transaction total. Accounts not meeting all monthly requirements will not earn dividends and will not receive reimbursements of other banks' ATM surcharge fees. Rates accurate as of 2/1/2023.
The dividend rate and annual percentage yield (APY) may change at any time. Balances up to $15,000 will earn the stated higher rate and the portion of the balance over $15,000 will earn the stated lower rate. See rate sheet or website for current rates. There is no minimum balance required to earn dividends. Dividends are paid monthly and calculated based on the average daily balance method. Fees may reduce earnings.
PowerPlus Checking is available as a personal account only and is limited to one account per member. When Opted In, if you do not have sufficient available funds in your checking account to clear a presented item, funds may automatically transfer from your savings or money market share and may count towards withdrawal limitations for that savings or money market share (Electronic funds transfers from savings and money market shares, which include overdraft transfers are limited to six per month). Each electronic funds transfer in excess of six per month is subject to a $3 excessive withdrawal fee. See Service Charges and Fees Schedule in Consumer Member Service Agreement for further details. PowerPlus™ Checking is a trademark of BCU.

2B Direct deposit allows you to receive payroll and other electronic deposits up to two days ahead of your scheduled payday. It's important to note, funds are not AVAILABLE for you to spend until they are reflected in the AVAILABLE BALANCE. Please be sure to confirm available funds in your account before withdrawing against this deposit. While BCU will try wherever possible to advance payroll direct deposits by up to 2 days, availability of funds ahead of the original scheduled pay date is not guaranteed. You should not rely on direct deposit to satisfy the needs of scheduled bill or loan payments, or any other date-sensitive financial obligations.

3Rates and Annual Percentage Yields (APYs) accurate as of 6/1/2023. Offer valid for new Money Market Special account with a minimum balance of $15,000 in new money. New money is defined as money not on deposit with BCU at or within 90 days prior to account opening. This is a tiered rate account. Balances below $15,000 will earn the stated lower rate of 0.05% APY. Balances of $15,000 and greater will earn the introductory rate 4.00% APY for 12 months from the account open date. The 12-month introductory rate period begins the month the account is opened and ends the last calendar day of the 12th month. After the 12-month introductory period, balances of $15,000 and greater will earn the rate of 1.75% APY. The rates and APYs are variable and may change without notice. Dividends are calculated by using the Daily Balance method, which applies a periodic rate to the balance in the account each day in the period. The dividend rate for a particular tier will apply to the entire balance if the daily account balance is within the balance range for that tier. Dividends will be compounded and credited monthly. The dividend period begins on the first calendar day of the period and ends on the last calendar day of the period. Dividends will begin to accrue on non-cash deposits (e.g. checks) on the day after you make the deposit to your account. If you close your account before accrued dividends are credited, accrued dividends will not be paid. Fees could reduce earnings. Six withdrawal transaction per month are allowed. No more than six preauthorized, automatic, or telephone transfers may be made from this account to another account of yours or to a third party in any month. If you exceed the transfer or withdrawals limitations, your account may be subject to a $3 excessive withdrawal fee for each transaction that exceeds the monthly six transaction limit and closure by BCU. See Service and Fee Schedule in BCU Consumer Member Service Agreement at http://www.BCU.org for a list of fees applicable to this account.

4Promotional rate accurate as of 05/01/2023. Offer available to BCU members, who fund the 18 Month certificate with new money. New money is defined as money not on deposit with BCU at or within 30 days prior to account opening. The minimum balance required to open a Certificate Account and obtain the promotional annual percentage yield (APY) is $500. The APY is based on the assumption that dividends will remain in the account until maturity. A penalty may be imposed for early withdrawal. Penalty may reduce earnings.

5Offer available to current TeamHealth employees. You may need to provide proof of employment or affiliation. For first mortgage purchase and refinance transactions of a primary residence, the maximum corporate mortgage benefit program discount is 0.125% off current BCU published rates. Rate discount and relationship pricing rate discount may be eligible to be combined. Corporate mortgage benefit program rate discount may not be combined with any Relocation Services program benefits, or any other home loan promotional offers. Certain mortgage types and/or terms may not be eligible for the stated rate discount. Loan approval is subject to credit approval and program guidelines. Not all loan programs are available in all states for all loan amounts. Interest rates and program terms are subject to change without notice.

6Upon disbursement of the loan, no payments will be required and no interest will accrue during a three-month promotional period. After this three-month promotional period ends, this loan requires full payments of principal and interest. The repayment term of the loan will begin three months after disbursement, when the promotional period ends. The Credit Union reserves the right to modify the terms of this offer at any point in the future for new applications.